İngiltere, Türkiye'yi kırmızı listeden çıkaracak

İngiltere, mayıs ayında kırmızı listeye aldığı Türkiye'yi önümüzdeki güncellemede sarı listeye almayı planlıyor.
İngiltere, koronavirüs salgınına karşı mücadele planı kapsamında bazı ülkelere seyahat kısıtlamaları uyguluyor.
Farklı varyantların ülkeye girişini engellemek için alınan bu kararlar kapsamında; tarihler 12 Mayıs'ı gösterirken Türkiye kırmızı listeye alındı.
Bu karar nedeniyle İngiliz turistlerin Türkiye'ye gelmesine büyük oranda engel oldu.
TÜRKİYE SARI LİSTEYE ALINACAK
Zor bir dönem geçiren turizm sektörüne güzel haber, İngiltere'de yayın yapan The Sun gazetesinden geldi.
Ülkenin en çok satan gazetelerinden biri olan The Sun; İngiltere'nin bu ay sonunda gerçekleştirilecek güncellemede Türkiye'yi kırmızı listeden çıkarıp sarı listeye alacağını yazdı.
Haberin detaylarında; pandemi öncesinde her yıl 2,3 milyon İngiliz turistin Türkiye'ye gittiği hatırlatıldı.
10 GÜN KARANTİNA + 2 BİN 285 STERLİN
Türkiye'nin kırmızı listeden çıkarılması oldukça önemli.
Öyle ki; İngiltere, Türkiye gibi kırmızı listede bulunan ülkelerden gelenleri zorunlu 10 günlük karantina uygulamasına tabi tutuyor.
Bu karantina için de insanlar kişi başı 2 bin 285 sterlin ödemek zorunda kalıyor.
Türkiye, yeni güncellemeyle birlikte kırmızı listeden çıkarılıp sarı listeye alınacak.
Türkiye'nin sarı listeye alınmasıyla birlikte turizmde ciddi bir hareketlenmenin olması bekleniyor.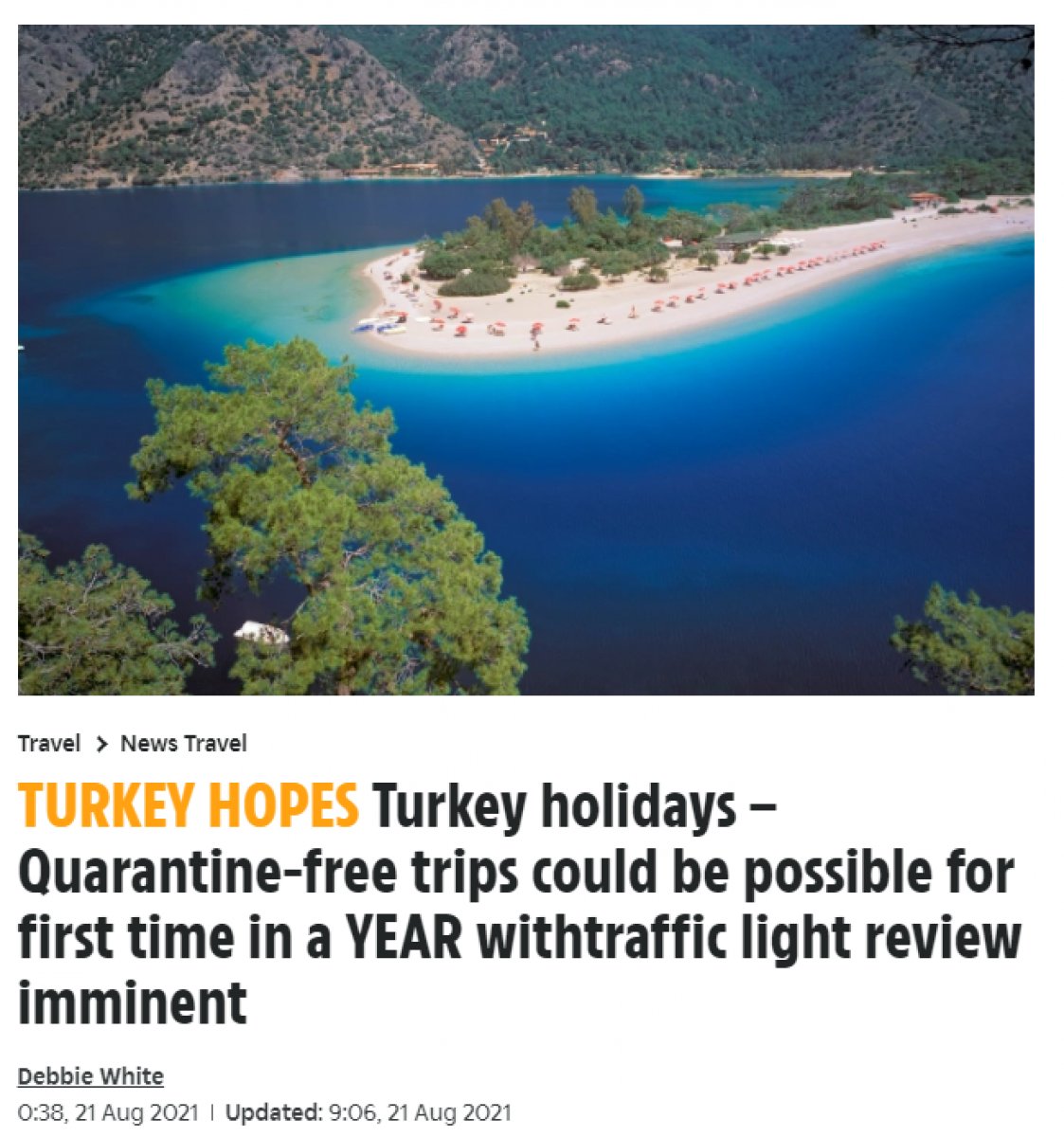 LİSTELERDEKİ ŞARTLAR VE ÜLKELER
Sarı liste; Yetişkin ve çocuklar için gelmeden önce negatif test sonucu isteniyor ve 10 günlük izolasyon şartı bulunuyor.
Bahamalar, Bahreyn, Kanada, Kıbrıs, Fransa, Yunanistan, Hindistan, İtalya, Jamaika, Japonya, Mauritius, Hollanda, Portekiz, Katar, İspanya, Saint Lucia, İsveç, Tayland, Birleşik Arap Emirlikleri, Amerika Birleşik Devletleri

Kırmızı liste; Ülkelerinden gelenlerin ellerinde negatif sonuçlu testleri ile gelmeleri ve geldikten sonra 10 gün boyunca €2,285 maliyetli karantina otelinde kalma zorunluluğu bulunuyor.
Arjantin, Brezilya, Küba, Dominik Cumhuriyeti, Ekvador, Mısır, Gürcistan, Endonezya, Kenya, Réunion, Maldivler, Meksika, Mayotte, Nepal, Pakistan, Panama, Peru, Filipinler, Seyşeller, Güney Afrika, Tunus, Türkiye
Yeşil liste: Negatif test sonucu ile gelmeleri istenen vatandaşlardan, belli aralıklarla PCR testi isteniyor. Ancak test sonucu pozitif çıkmadığı sürece herhangi bir karantina ya da izolasyon zorunluluğu bulunmuyor.
Anguilla, Antigua ve Barbuda, Avustraya, Avusturya, Barbados, Bermuda, Bulgaristan, Cayman Adaları, Hırvatistan, Dominika, Cebelitarık, Almanya, Grenada, Hong Kong, İzlanda, İzlanda, İsrail, Letonya, Madeira, Malta, Monserrat, Yeni Zelanda, Norveç, Romanya, Singapur, Slovakya, Slovenya, Turks ve Caicos Adaları