IMF, Taliban'ın Afganistan'ın fon kaynaklarına erişimini engellendi

IMF tarafından Afganistan'daki hükümetin tanınması konusunda bir netlik olmadığı için IMF kaynaklarına erişemeyeceği açıklandı.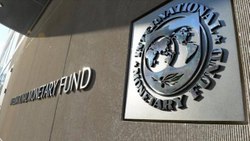 Uluslararası Para Fonu (IMF), Afganistan'ın özel çekme hakkı (SDR) olarak adlandırılan rezerv para birimi ile diğer IMF kaynaklarına erişemeyeceğini duyurdu.
ULUSLARARASI TOPLUMUN GÖRÜŞLERİ KARARDA ETKİN
IMF sözcüsü tarafından yapılan açıklamada, uluslararası toplumun görüşlerinin her zaman olduğu gibi IMF'ye rehberlik ettiği kaydedildi. Açıklamada, "Şu anda uluslararası toplumda Afganistan'daki hükümetin tanınması konusunda bir netlik yok ve bunun sonucu ülke SDR'lere veya diğer IMF kaynaklarına erişemez." ifadesi kullanıldı.

GELECEK HAFTA İÇİN PLANLANAN 400 MİLYON DOLAR PARA ÇEKİMİ DURDURULDU
Öte yandan The New York Times'ın bugün yayınlanan haberinde, ABD Başkanı Joe Biden yönetiminin Taliban'ın IMF'nin gelecek hafta Afganistan'a sağlamayı planladığı 400 milyon doların üzerindeki SDR tahsisini engellemek için çalıştığı kaydedilmişti.
AFGAN HÜKÜMETİNİN 9 MİLYAR DOLARLIK NAKİT REZERVLERİNİN BÜYÜK KISMI ÜLKE DIŞINDA
Afganistan'ın Taliban'ın kontrolüne girmesiyle ülkeden ayrılan eski Afganistan Merkez Bankası (DAB) Başkanı Ecmel Ahmedi ise Afgan hükümetinin 9 milyar dolarlık nakit rezervlerinin büyük kısmının ülke dışında tutulduğunu bildirmişti.

AFGAN HÜKÜMETİNİN 7 MİLYAR DOLARI FED'DE
Ahmadi, bu paranın yaklaşık 7 milyar dolarının, tahvil, nakit, altın ve başka yatırım türleri halinde ABD Merkez Bankasında (Fed) tutulduğunu belirterek, geriye kalan kısmın da İsviçre'deki Uluslararası Ödemeler Bankasında ve başka uluslararası hesaplarda olduğunu kaydetmişti.
TALİBAN'IN ABD KURUMLARINDA TUTULAN MİLYARLARCA DOLARA ERİŞİMİNİ ENGELLEDİ
The Washington Post'un dün konuya yakın kaynaklara dayandırdığı haberinde de Biden yönetiminin pazar günü Afgan hükümetinin ABD bankalarındaki rezervlerini dondurarak Taliban'ın ABD kurumlarında tutulan milyarlarca dolara erişimini engellediği aktarılmıştı.